Coming soon!
Executive Functioning: What It Really Means and How to Apply It In Your Classroom Tomorrow
Do you have students who...
Continuously blurt out in class?
Act out towards you or other students for what appears like no reason at all
Can never seem to remember their books or other materials?
Consistently don't turn in assignments?
Are easily distracted or have a hard time sitting still?
If you answered "YES" to any of these questions, then we hear you! This PowerPD course is for you!
All learners will receive a certificate for 10 professional development hours upon completion of a PowerPD unit.
COURSE Overview
In a world with increasing distractions, sources of stress, and information to process, the brain needs a way to manage and organize incoming information.
Executive Functioning is a set of skills that enables us to manage multiple sources of information, develop plans, and stay focused. We are not born with this innate ability but develop it as we grow and learn. Without these crucial skills, your students cannot accomplish several crucial tasks including: c
ontrolling impulses, c
omplex problem solving, d
eveloping and adjusting plans, r
ecognizing and remediating mistakes,
setting, monitoring, and achieving goals, e
motional self-regulation and control.


As an educator, we know you love to learn but we also know that you need to apply these skills in your classroom tomorrow. In this course, we will provide you with the information you need to actually understand the brain science behind Executive Functioning, as well as practical strategies to identify Executive Functioning weaknesses through your students' behaviors, and how to support strengthening them.
COURSE Objectives
In this course, you will review the brain science behind Executive Functioning (EF), myths and facts, disabilities that affect EF skills and how to target these weaknesses, and strategies for building EF skills remotely and in the classroom.
Learners who successfully complete this PowerPD should be able to:


• List three principles of brain science underlying Executive Functioning.
• Identify the primary area of the brain involved in Executive Functioning.
• Identify different ways that executive functioning deficits usually show up in students of three different age groups.
• Describe an inescapable brain-based reason why Executive Functioning is fundamentally different in young children, older children, and adults.
• Evaluate whether commonly accepted information about Executive Functioning is a "myth" or "truth".
• Identify several effects on Executive Functioning of trauma, autism, and ADHD respectively.
• Begin to assess and have empathy for student behaviors through the lens of Executive Functioning deficits from trauma, autism, and ADHD.
• Apply your learnings by creating a list of brain-based strategies to support their your students' Executive Functioning development and skills in the unique learning environment of your classroom and your student population.
COURSE STRUCTURE
All Brain Power Academy Online Professional Development Courses consist of a blend of learning elements to engage you and empower you to implement new strategies and techniques with your students.
Lessons consist of:
Engaging videos
Reading materials
Lesson assessments
Practice activities to apply strategies and techniques
Opportunities for reflection
Printable takeaways
Free Course Printable
Download this printable from the Executive Functioning PowerPD:
This Executive Functioning Wheel illustrates the key areas of Executive Functioning, and the skills associated with them. This is one of over 15 printables you will receive when you take this PowerPD!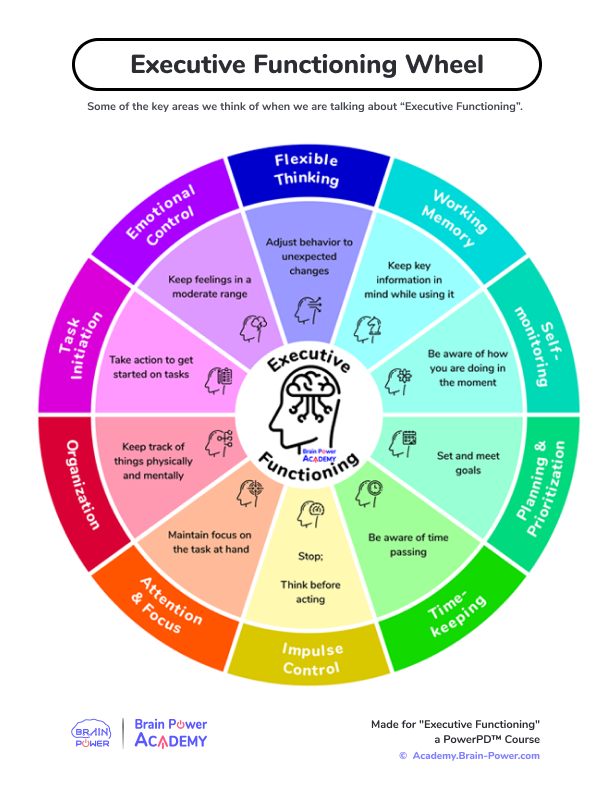 Click on the image or click download for a printable PDF version of the EF Wheel.
yOur teachers
The Brain Power Academy Team

Experienced educators and neuroscientists.
The
Brain Power Academy Team
is composed of neuroscientists, educators, and mental health experts who are dedicated to creating the best PD to empower you in the classroom. We specialize in translating the latest neuroscience research into easy, ready-to-use techniques and exercises that assist teaching and learning in this new
distanced-learning
environment.
Don't hesitate
Earn PD credits and take your expertise to the
next level!
Sign up to be emailed when this course is available:
Frequently Asked Questions
When does the course take place?
All of our PowerPD units are self-guided so you can explore at your own pace! Once you enroll in a unit, you will have lifetime access through your Brain Power Academy account.
Our units are setup to allow for free navigation; however, we recommending completing the lesson activities in order for full synthesis of the content.
To navigate through a unit, click on the lesson from the unit's landing page, or click on "Continue Learning" to be redirected into the course player. By doing this, you will always continue straight from the last learning activity you have visited.
Once inside a lesson, you will see all of the different learning activities on the left-hand menu, and the content will appear on the right. Use the left and right arrows to navigate.
How do I complete the course?
In order to complete a course, learners must complete all learning activities within the
online professional development course
(including all videos, articles, reflection activities, assignments, and quizzes) in order to be awarded a certificate of completion.
What kind of content can I expect to see in this course?
Access multimodal content including voiceover slide presentations, articles, videos, and other supplementary resources within all of the PowerPD lessons!
Can I receive professional development credit for this course?
All of Brain Power Academy's online
professional development courses
are eligible for 10 Professional Development Hours/Professional Development Points (PDPs). Learners must complete all learning activities within a unit (including all videos, articles, reflection activities, assignments, and quizzes) in order to be awarded a certificate of completion.
Contact us
Let us know about your interest in our PD days services offering.
Created with