Empower Your Students
Brain Power Academy's PowerPD are Short and Practical Professional Learning opportunities that will empower you to help your students meet their social-emotional needs, both in the classroom and remotely. Created by our team of educators, doctors, and neuroscientists with your concerns in mind!
The PowerPD Short and Practical Professional Learning Method
Social-emotional Learning (SEL)
Special needs students thrive under SEL. Our lessons focus on strategies that inform educators how to encourage students to be successful.
Rooted in Brain Science
Our courses are developed by neuroscientists, doctors, and education experts with an emphasis on the scientific research behind the logic.
Interactive
Rather than offering lectures, we created lessons that engage you through interactive features such as click-through videos, quizzes, and activities.
Distance Learning
With the difficulties educators are facing due to COVID-19, our courses are created with remote access in mind. Learn how to reach your students digitally.
BRAIN POWER ACADEMY TEACHERS
Meet Your Instructors
Dr. Ned T. Sahin, PhD
Harvard and MIT Neuroscientist; CEO of Brain Power, LLC
Dr. Sahin was trained in neuroscience at Harvard, MIT and Oxford. His academic work has been published in journals such as Science and Nature Neuroscience, and his PhD dissertation won the prize for the best dissertation across all departments at Harvard that year. At MIT, he won several teaching prizes. Dr. Sahin founded Brain Power, LLC to bring neuroscience ideas and technological innovations to people with special challenges who can directly benefit from them the most.
Dr. Arshya Vahabzadeh, MD
Chief Medical Officer
Dr. Vahabzadeh is a Harvard Medical School based physician, trained in both medicine and psychiatry. He is the former Chair of the Council on Communications of the American Psychiatric Association (APA) and a consultant to Khan Academy, Neurolaunch, and Anthem. Dr. Vahabzadeh has published extensively in clinical neuroscience and neurobiology, and has over 20 awards, including from the APA and the American Medical Association.
Dr. Neha Keshav, PhD
Chief of Staff Director of Research
Dr. Keshav completed her PhD and postdoc in neuroscience with a concentration and special interest in autism. She has also worked at a neurotechnology startup and thus brings industry as well as academic experience, in addition to her will-do and winning attitude. She superintends all scientific research at Brain Power as well as all government grants.
Dr. Rafiq Abdus-Sabur, M.Ed.
Director of Education
A scholar, former educator, and edu-tech entrepreneur, Rafiq is a Boston-area native and understands the real nature of our educational system. His graduate studies at Harvard gave him a theory-based toolset for educating those with special needs, grounded by his real-world and practical experience with the nuances of the educational system in action.
Michelle Donahue, M.Ed.
Experienced Educator
Michelle brings to Brain Power 10 years of inclusion-model classroom experience in Massachusetts public schools. She has extensive experience with curriculum design (Massachusetts Curriculum Frameworks and the Common Core) and Universal Design for Learning (UDL). For the past two decades, Michelle has worked with children in some capacity, and now combines her passion for helping students succeed with her enthusiasm for EdTech innovation.
James Coleman, B.S.
Lab Manager
James joined the Brain Power team after graduating from Northeastern University in 2020 with a B.S. in Behavioral Neuroscience. In addition to his studies, James was actively involved in neuroscience research on-campus, as well as at Harvard Medical School studying topics ranging from learning & memory, sleep & depression, and the effects of cannabis on the brain. He brings a methodical and research-focused mindset to his work at Brain Power where he is involved with operational duties and new product development.
\Learnworlds\Codeneurons\Pages\ZoneRenderers\CourseCards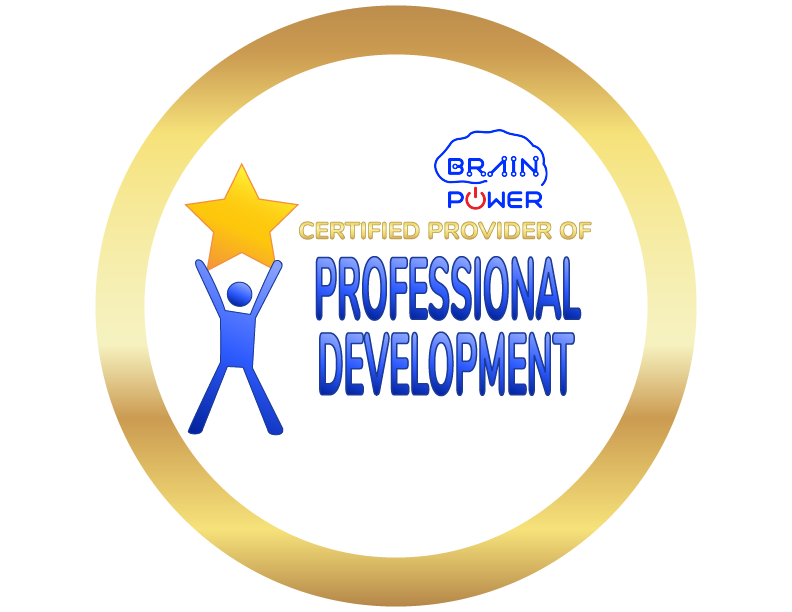 Licensed Provider of Professional Development for Educators — Earn your PDPs today!
Brain Power is an approved Provider of Professional Development in Special Education and Comprehensive Health. Our PowerPD units are designed to help you teach social-emotional skills to your students and guide them to reach their full potential.
Empower your Students with Power PD!
Join the community

Sign up for our newsletter.
Get exclusive news, tips & tricks
Contact us
Let us know about your interest in our PD days services offering.